REGIONAL- Everyone knows farming can be a tough occupation, but many aren't aware of just how tough it's become, or the toll it's taking on the people dedicated to producing the food we eat.
U.S. Department of Agriculture forecasts for net cash farm income were bleak for 2020 before the havoc of COVID-19 reared its devastating head.
In February, the USDA predicted double-digit losses in all crop categories except specialty crops. Corn famers were expected to bring in 12.4 percent less than in 2019— wheat farmers, a whopping 25.5 percent less.
Corn could well be worse, as at $3.15 a bushel the price is down a dollar from last year, and down 60 percent from 2012's high of more than $8 a bushel. There's plenty of excess corn to be had after recent bumper crops, compounded by the closure of a key buyer, ethanol plants, who shut their doors when oil companies received a COVID-19-inspired exemption from having to use ethanol in their fuel.
The current crisis is likely to exacerbate long term trends of increased bankruptcies and, more tragically, suicides. The incidence of suicides among farmers has increased by 40 percent in the past two decades, catapulting the profession to the fourth-highest rate among all occupations, according to a CDC analysis released in January.
Higher prices at the grocery store haven't translated into more income for those who produce the food we eat, and although the CARES Act included almost $25 billion to help farmers offset COVID-19-related losses, it didn't address the non-COVID losses already projected by USDA.
In southern Minnesota, where farming is big business, there's been a program for more than 20 years designed to help farmers cope with stress and prevent suicide. In the northland, driven by the three T's of timber, taconite, and tourisM, farmers have been left to find such resources themselves.
But that's changing with the advent of a new program through Lake Superior Community Health Center, a program with offices in Duluth and Superior. Thanks to a grant from the Miller-Dwan Foundation, farmers in this region now have access to someone who will come to them, for free, to help navigate their way through stressful times.
Rural health outreach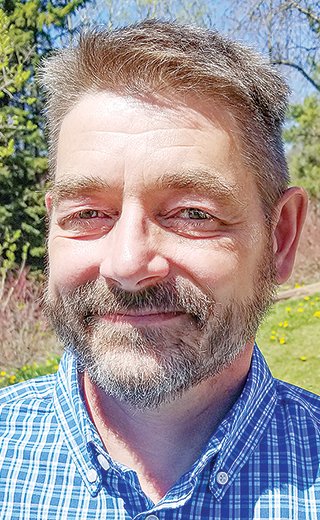 Program coordinator Rich Tunell wasn't a farm kid or an agriculture professional. He was in communication and technology and discovered over time that what he liked best was helping people solve their problems. That interest was heightened even more through his work with a Stephen Ministry at his church. Helping became a passion, enough so that Tunnell abandoned his career and earned a master's degree in counseling from the University of Wisconsin-Superior.
Now, as the program's first coordinator, hired in March, Tunell has an even deeper appreciation for farmers and is busy getting the word out that he's ready to do whatever it takes to help them through difficult times.
"I admire their resilience," Tunell said. "They're basing their livelihood on something they might not even see today. They don't know what their crop is going to be like, they don't know what the price is going to be when they sell it. It's all based on future prospects, on faith. That's a big thing I like. They tend to care for their neighbors. I like the idea that many farms have been passed down through generations. It's heritage, it's ingrained into who they are in their lives."
Tunell said he grew up in a family that ran a seasonal restaurant in Superior, so understands family-oriented businesses and the financial challenges they face.
He also draws on his military experience, four years with the Air Force in Spain doing communications and computer work. He was within a month of returning stateside when President George H.W. Bush announced Operation Desert Shield.
"That threw me for a loop," he said. "Most of my stuff was already shipped back,;my wife was already here. Should I volunteer to stay, or do I just get out?"
Faced with a stressful dilemma, Tunell did what he hopes farmers will do – he turned to someone else for counsel.
"I talked to my commander about it," Tunell said. "He didn't see any problem with me getting out. Things were still up in the air as to what was going on, and that's what he recommended to me."
"You never know what to expect," he added. "It looks like you have everything laid out and all of a sudden a curve ball comes. You have to be prepared to handle what comes."
Tunell knows that the quality of resilience he admires in farmers can sometimes end up being a barrier to asking for help.
"A lot of times it's hard for people in these positions to open up to each other and family," he said. "They have to be the stoic one, they have to be the one in charge who holds things together. To get someone to break through that barrier is hard."
That's why Tunell has started his work by looking to connect with people who interact with farmers on a regular basis.
"It's not necessarily directly contacting the farmers," he said. "It's dealing with their pastors, their bankers, their insurance companies, where they buy their food, so that when I gain their trust maybe the farmers will see that I'm trustworthy. I don't want to be a sales person and push my way into someone's life because you just get pushed away and you can't even open the door then."
While Tunell is available by phone or in his office, his goal is to take his services out on the farm, where he believes farmers feel most comfortable. He starts learning the moment he pulls into a farmer's driveway, paying close attention to the history and stories to be gleaned from observing the land, the equipment, and the buildings. And he's in no rush to come and go, knowing that establishing a relationship with someone is important in being able to help.
"I'm interested in their stories, how they developed, how it formed who they are today," he said. "If they want me to come alongside them on the farm and spend the day with them to get to know them, I will."
Tunell emphasized that his job isn't about mental illness, it's about mental health, and helping farmers and families handle the extraordinary stress they may be under.
"What I really want to focus on is dealing with their stress, their relationships, and where they're at. I think everyone can use help in some form or another. We can always improve how we talk to each other, how we listen to each other, how we have a different mindset for the stresses we have to deal with. They just need some outlet, some unbiased person who can come in and tell them they're doing OK and how to handle stress a little bit better, how to help with communication. That's more my approach."
Tunell said he's grateful that the nature of the program allows him to concentrate on service, rather than generating numbers.
"I can't be keeping stats on how many farmers I've seen every week," he said. "If you worry about that you're going to blow it. I look at this as a long-term process where I take my time and let them get to know me and get comfortable with where I'm at. Before they need help, or when they need help, I'm available."
Those interested in learning more about Tunell and the rural health initiative can call Tunell at 218-730-6833, or send an email to rtunell@lschc.org.