Sheldon D. Sandberg
Sheldon Duane Sandberg, 50, of Cook, passed away as the result of an accident on Sunday, July 21, 2019, in Bear River. Funeral services will be held at 11 a.m. on Saturday, July 27 at Trinity Lutheran Church in Cook. Visitation will be held one hour prior to the service at the church. Arrangements are with Mlaker Funeral Home of Cook.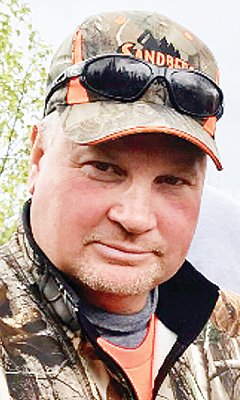 Sheldon was born to Merlin and Maxine (Kersting) Sandberg on May 25, 1969, in Hibbing. He attended Alango and Cook Schools, graduating in 1987. Sheldon was an athlete through school and continued to play men's softball for years after. Sheldon enjoyed watching sports, especially watching his son Jaret. He was a Cook Youth Baseball coach for all the years Jaret played baseball.
Sheldon was united in marriage on April 24, 1999, to Taryn Holter in Cook. Together they raised two children, Jaret and Jahna, and were proud grandparents of Sheldon's "little buddy" Grayson.
Over the years, Sheldon connected with many people whether it was serving a beer/cocktail at the Viking Bar in Bear River or filling a car's gas tank at Russ & Mike's Gas Station in Cook. He worked as a logger in the winter for a few years. Sheldon was a talented carpenter and had worked for a few area companies before starting his own company, Sandberg Construction & Property Services, where he connected with a lot of customers that turned into great friendships.
Sheldon enjoyed the outdoors and liked to hunt and fish, especially Canadian fishing trips to Anishinabi Lodge and Fitchie Lake. He liked to snowmobile and was a member of the Cook Timberwolves Snowmobile Club. He enjoyed riding wheeler, pontooning with family and friends, going to the shack in Bear River and cabin on Black Duck Lake, along with vacationing in the winter to warm climates with Taryn and great friends.
Sheldon is survived by his wife, Taryn; son, Jaret (Destinie Villebrun) Sandberg and their son Grayson; daughter, Jahna Sandberg; parents, Maxine and Merlin Sandberg; brother, Brad (DeeAnn) Sandberg and their daughters Alli and Hanna; sister, Stacey (Steven) Ratai and their children Regan and Kaden; mother-in-law, Gail (Mike Gwash) Brunner; sister-in-law, Tammi Holter; many family members and a large circle of friends.
Sheldon was preceded in death by his father-in-law, James "Ding" Holter; paternal grandparents, Art and Ella Sandberg; and maternal grandparents, Archie and Clara Kersting.

Gail Sheddy
Gail Williams Sheddy, 78, of Ely, died on Wednesday, July 3, 2019. There will be a service of gratitude to honor both Gail and her late husband Gordon in mid-September. The place and time will be announced at a later date. Family arrangements have been entrusted to Kerntz Funeral Home of Ely.
Gail was born in Lincoln, Neb., on Sept. 3, 1940, to Mark and Dorothea Williams. After living in several Nebraska towns, her family settled permanently in Omaha where Gail attended North High School. She was educated at the University of Kansas and joined the Delta Delta Delta sorority. Afterward, she taught briefly in Kansas and then returned to Omaha to teach English and Debate for several years.
Deciding to "see the world" Gail changed careers and began a 38-year adventure with United Airlines. Beginning as a flight attendant, she quickly rose to positions of greater responsibility and considerable leadership.
Gail married Gordon Sheddy in 1968. They lived in Teaneck and Cherry Hill, N.J., as well as other locations in Pennsylvania, Minnesota, and Ohio. They became immersed in the world of Komondors, a Hungarian dog breed, quite rare at the time. They owned and bred the dogs. Gail became a well-known judge at dog shows and it was said she knew every Komondor in North America. She traveled to London, England, to see the Crufts dog show.
After frequent vacations in the Ely area, Gail and Gordon moved to Ely in 2005, building a home in Spaulding where they lived together until Gordon died in 2018. Both Gail and Gordon became absorbed in Ely matters and organizations, with Gordon serving on the Ely City Council for two terms.
At the encouragement of Mary Brown, a legendary woman in Ely, Gail quickly became associated with and often an officer of Ely Community Resources, The Library Board, Friends of the Library, Ely-Winton Historical Society, American Association of University Women, Philanthropic Educational Organization, Northern Lakes Arts Association, and St. Mary's Episcopal Church in the U.S.
As well as serving St. Mary's Church in Ely as Evangelist and Administrator, Gail was elected to the Standing Committee of the Episcopal Church in Minnesota (ECMN) for several terms. She also represented the ECMN at the National Convention of the church twice. She was a great and active supporter of her church in every way and considered these experiences very significant.
Always enthusiastic about young people in Ely sports activities, she followed the teams, often knowing the stats of individual players. Devoted as she was to the University of Kansas basketball teams, March Madness was a sacred time, as were the days of the Westminster Dog Show in February.
All of Ely could appreciate Gail's efforts to make the city a better place, especially for children.
Gail is survived by three nieces, Julie Cortinas and Marcia Johnson, both of Omaha, Neb., and Amy Engelhart of Turnersvile, N.J.; and sister-in-law, Barbara Solly of Williamstown, N.J.
She was predeceased by her parents; husband, Gordon; and brother, Mark.

Alan J. Rhein
Alan J. Rhein, 82, of Ely, passed away on Tuesday, July 16, 2019, at the Ely-Bloomenson Community Hospital. A memorial service was held on Monday, July 22 at First Presbyterian Church in Ely. Funeral arrangements were with Kerntz Funeral Home of Ely.
He is survived by his wife of 61 years, Betty; sons, Keith (Kay) Rhein of Coon Rapids and Gregory Rhein of Ely; daughter, Susan (Wayne) Karge of Anchorage, Alaska; grandchildren, Bethany (Jeff) Brunton and their daughter Olivia, Matthew Rhein and friend Julia Balestriere, Jennifer (Keith) Brown and their sons Zachary and Quinton, and Timothy Karge; sister-in-law, Phyllis Olson; and several nieces and nephews.

James R. Maki
James Robert "Jim" Maki, 70, of Ely, died on Saturday, July 6, 2019, at his home on Burntside Lake. He was where he loved to be, doing what he loved, fishing. A gathering for Jim's friends will be held at the Long Branch in Winton on Saturday, July 27 from 12 noon to 3 p.m. Remarks at 1 p.m. All are welcome.